Measurement and Control Software Hillgus
All of our ultrasonic inspection systems are operated and controlled with our ultrasonic software Hillgus. This includes, among other things, the setting of the inspection parameters, the display of A-scan with software gates in real time, the control of the scanning mechanics and the recording and imaging of inspection results. The clear menu structure enables a simple and intuitive operation.
Due to its modular design, Hillgus supports a large number of different system configurations. The range of functions can be individually expanded and adjusted at any time (see section: Options for Hillgus)
The most important functions are:
A-scan display and evaluation in real time

Settings of all parameters (scanning area, resolution, gain, filter, etc.)

Saving and loading of inspection parameters, results and metadata

Open file formats for easy processing by third party software (MATLAB, Python, NDTkit/Ultis etc.)

Functional software gate technology for measuring of amplitudes, time of flight and spectra (option)

With imaging systems: automatic inspection of specimens with saving and display of results as A-, B-, C-, D- and F-scans (option)

Go-To function: A loaded result enables the scanner to be moved to a mouse-selected position within the inspection area

Time or path controlled acquisition of B-scans (option)

Complete recording of all A-scans (volume file) when scanning a specimen, with offline evaluation (option)

Remote control of selected functions via a TCP/IP connection (option)
Figure 1 shows the Hillgus user interface in adjusting mode. A loaded result (defect echo, back wall echo and defect depth) allows checking of inspection parameters and validation of A-scans and gate configuration by selecting a position within the result. This can be done both: online on the inspection system, with the A-scan being permanent re-measured, or offline using a volume file without a new measurement (option). The lower left area contains thematically sorted tabs for setting the inspection parameters. For a measurement, Hillgus is put into recording mode, with the tabs for setting inspection parameters being hidden.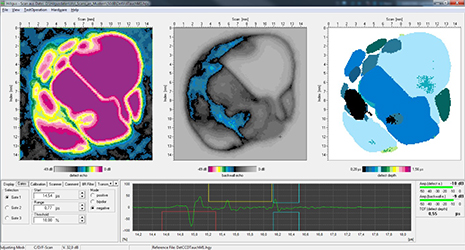 Fig. 1: HILLGUS in Adjusting Mode
Options:
A number of optionally bookable modules are available for Hillgus. Some of these options require others. Not all options can be combined with each other. The following list [Link zur Liste als pdf] does not include such dependencies for the sake of simplification. It is only intended to provide an overview of the possible range of functions of Hillgus and does not replace individual advice.