Manual hand-guided inspections are usually performed in direct contact with a coupling paste. This requires A-scan ultrasonic inspection devices which, similar to an oscilloscope, display the received signal as amplitude over time.

With USBUS, we offer a range of powerful and cost-effective A-scan ultrasonic inspection devices for research, development and training. The USBUS devices can be connected to any Windows PC or laptop via a USB interface. Our high-quality and proven ultrasound cards and an ADC are integrated. The devices are controlled with our proven Hillgus software. With the Bt-scan option, Hillgus also delivers results as a live cross-sectional image of the specimen. This occurs during the manual movement of the probe or component.

System family USBUS
USBUS refers to a new device family with a very good price/performance ratio. Here, the user uses an existing PC (or laptop). The connection to the USBUS system is made via a USB interface. The following USBUS systems are available for different inspection tasks.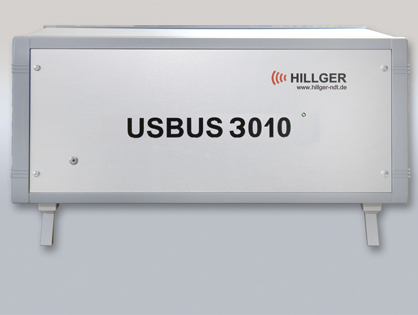 Fig. 1: Manual material testing
Frequency range
[MHz]

Applications
Flyer
USBUS 3010
0,1 bis 20
Composites and metals
USBUS
USBUS 3010 Hf
0,15 bis 35
Defects in composites even with a high resolution in
thinner components
USBUS
USBUS 3010 VHF
0,1 bis 65
Bond inspections, inspections of composite components, thickness
measurement up to 0.1 mm steel, probe characterization
USBUS
USBUS 3060 UHF
1 bis 200
Semiconductors, contacts, bonding, thickness mesasurement up to 0.1 mm
steel, probe characterization
USBUS
3060 UHF
USBUS 3011 NF
0,01 bis 10,5
Concrete, wood, steel, composites, foams
USBUS
Tab. 1: Applications for the USBUS-Family
Portable Computer
On request, all devices can also be installed in a portable PC or in an industrial PC. It is then possible to extend the device to an imaging system.
---